Do you want to build your web-based applications using the Python Django framework? but don't have any Django developers onboard? Or your Django developer has left you in the middle of the ongoing project. In either case, you need to hire Django developer to get your work done correctly.
Python is the most in-demand language to work with. According to the Stack Overflow Developers Survey of 2021, Python raised the highest percentage( of 19.04%) for the most in-demand language to work with. In contrast, the Django framework is loved by 55.28% of developers. It is a web development framework to easily make a secure and scalable website.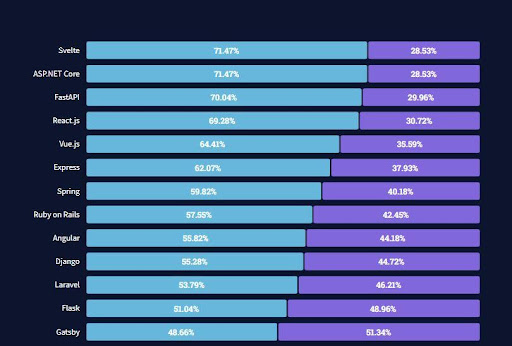 Why and When Do You Need Django Framework?
Django framework is needed when you want to make a highly secure and scalable website without reinventing the wheel. The framework allows developers to avoid serious security mistakes and build sound and secure web applications. It works on Model View and Template architecture that helps to create and use several things independently.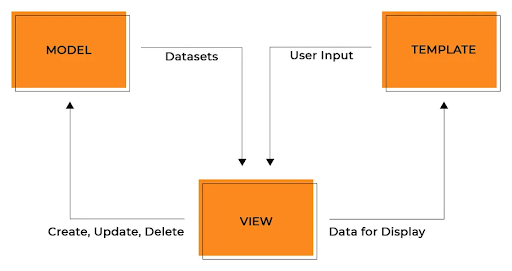 Source: SteelKiwi.com
You can use this framework if you want to develop any CRM or CMS systems or you want to develop a social media/communication platform like Instagram. You can also use the Django framework for document administration platforms like Dropbox and many more.
To onboard the right person for your upcoming or ongoing Python/Django project, get help from the list below to find the best option for yourself.
Top Platforms to Hire Django Developer
The Django community has grown at a rapid pace in the past few years. With this huge community of Django developers, it might be hard to find the best-skilled person for your project. with that in mind, we have listed some of the top marketplaces. From there you can hire Django developer or a dedicated team that can be the best fit for your project or company.
Hire a Django Developer or Team

Want to hire a full team of Django Developers? or a developer for completing your projects in different technologies? then you are at the right place. Esketchers provides you with the facility to hire a team without worrying about their career growth and guidance.
As we promise excellent quality products to deliver. Our team has excellent skills in web development and mobile application development. In addition, they also provide services in custom software development. You can find us easily on Upwork, People Per Hour, and Clutch to get your projects and tasks done by subject matter experts. According to Designrush: Esketchers has been selected among the Top Web Developers In Dallas
You might be familiar with Upwork or have heard about it. It is an American platform for freelancing having more than 13 million contractors until now. Where you can connect with multiple people from different fields. 
To hire a Django developer all you need to do is, post a job there.  Go through the bids and select the most polished and talented developer for your project.
A platform that provides access to freelancers on limited budgets. If you are looking to hire a freelance Django developer with a limited budget in hand. Then People Per Hour is the best option for you. You have to only put some more effort, as all the process will be conducted by yourself.
Clutch serves as a third-party resource for large businesses. As it provides reality-based ratings and reviews of their clients(Software companies or individuals).
So if you are having a B2B Business and looking forward to hiring a Django development team, Clutch is the best platform for you.
Simply go through the provider's profile and reviews, analyze them and choose the best one for you.
Toptal is the best platform for companies or recruiters looking for the best-fit Django developer on an urgent basis. As Toptal offers candidates possessing the right qualifications and experience.
This freelancing platform not only offers top-notch quality freelancers but also saves your time. Through them, you can hire one of the best Django developers within 48 hours.
All the candidates have passed several tests before entering into the freelance pool of Toptal, This brings quality and customer satisfaction to them.
Gun.io is a platform from which you can easily hire Django developer or a whole team for your Django framework project. It has great similarities to Toptal and is gaining popularity as the best job posting platform worldwide.
All you need is to create an account and construct your company profile there to post a job. Applicants will then apply and you can shortlist them for the interviewing process.
Note: Businesses or companies will only be charged the fees of using Gun.io if they hire a freelancer from there.
AngelList has emerged as a ray of hope for new businesses or startups. As they have a mission to make the startups successful. From aiding in collecting funds for the new startups, AngelList provides great assistance to help them settle down and grow in the industry.
If you are looking forward to making a team of experienced Django developers, then you can surely count on them. As they have a huge community of Django developers.
It is a Job boarding system for American and European markets. Providing part-time to full-time and freelance Django developers.
It comes with two plans classified as Basic and Premium, which allows the company/user to list the job for 45 days and 90 days respectively.
One extra feature that is included in the premium package is that it also lists down your job requirements on multiple Django platforms like Djangolinks.com, FreeDjangoHosting.com, and DjangoForum.com.
Scalable Path is a platform that provides you with the facility to save time and effort. All you have to do is to tell your requirements to the Scalable Path representative. He will then form a Job description and the rest will be their duty. 
From finding the Django developers according to the job description to shortlisting the cream for you. So that you can only call the most relevant person for the interviews. With Scalable Path, you can hire a whole dedicated team of professional and skilled Django Developers for your company. 
The only disadvantage of hiring through the Scalable path is that it takes a few weeks to hire the best person. Therefore, if you are running short of time or need to hire on an urgent basis then rely on some other source.
You can hire a team of top-notch quality, heavily qualified, and experienced Django developers from Gigster. As they provide some of the best candidates from all over the world like Toptal.
However, you must go through their refund policy before trusting them for your hiring process. As they provide a zero refund policy, which might not suit you.
It is the fastest-growing network of individuals, companies, and brands. Where you can search and find the best fit from thousands of choices. It helps you to add a great asset to your company or project.
To onboard an experienced and highly qualified Django developer, post a job description with requirements and company details. Applicants will apply from all over the world or a region if specified. You can then shortlist the best suitable for interviews and further tests.
Select The Best Django Developer For Your Company
Once you have chosen a medium, from which you will be getting help or assistance to hire a Django developer. The next step would be to shortlist the best candidate for your company or the project.
Many applicants will apply for one job post. It is the company that will perform the screening and filter out the best-matched applications for their project or company.
Look to Hire the Development Team?
Share the details of your request and we will provide you with a full-cycle team under one roof.
Before selecting any Django developer, make sure to have a look at some of these points to make the right choice:
Django-Based Work Portfolio 
A portfolio matters a lot, as it depicts the work proficiency of any individual. Carefully analyze the portfolios submitted by the applicants. Every company wishes to hire a developer or team that has relevant work experience.
Go through the projects/ websites that are previously developed by the developer/team. Filter out those portfolios that have projects related to your ongoing or upcoming project. This will help you to make a better decision.
If a Django developer or team has previous experience working with a similar type of project. Then it will be a winning situation for you. Else look for the one who has worked on the Python/ Django framework projects. 
Feedback From Clients Matters a lot!
A client review is something that you can count on while considering any freelance, full-time, or team of Django developers. The feedback of the developer tells how dedicated and proficient he is with his work.
Freelancers have their reviews posted on their websites, like Upwork. Go through them along with the nature of the websites.
However, if you are opting to hire a full-time Django developer then you should ask about him/her from the previous employer.
Team or Agency reviews and ratings are posted on websites like Clutch.co, Upwork, etc.
Technical skills and Soft skills to look for
Besides going through the work portfolios and feedback provided it's equally important to look for some key technical and soft skills in a Django developer or a team. 
Here is the technical skills list you should checkmark before selecting a final candidate for the interview. 
Should have ample knowledge of

Python, as Django is its framework. Therefore it is the main prerequisite of working with Django.


The utmost needed skill should be adequate knowledge and working experience with the

Django

framework. One must know about the tools present within Django and its internal linking and working.

Object Relational Mapper

or ORM skills are a must-have. As the Django framework connects the database through ORM. Therefore a good Django developer must possess some quality skills for working with it.

Test the debugging skills of the Django developer for multi-threaded systems. As they give tough time to most of the developers. Therefore having prior knowledge of them will be a plus. As multithreading helps the application to execute/run fastly.

Enough knowledge of

Restful API

. So that one can easily connect the applications with the components that are necessary for smooth working.
Besides having a good technical skill-set, soft or personal skills are also necessary for a good Django developer. Esketchers think that following are the key personal skills a good Django developer should have:
Communication

is the key to any project's success or failure. Whether you opt for a team or a freelance Django developer. In either case, good communication skills are important. As they have to discuss the requirements, future steps that should be taken, etc with the customer or a project manager/owner.

Responsible and good time manager:

A good freelance developer or a team should have significant time management skills. So that they can easily deliver the product on time. In case of any failure or problems, a good developer should face accountability actions and make efforts to achieve the target.

Motivated & Problem solver:

Keen dedication is the key to being a good programmer. If you are enthusiastic about your project you can deliver it accurately. In addition, the best fit developer should have critical thinking and can deduce the solutions to existing problems by taking bold decisions.
The Right Way to Interview a Django Developer?
Selected a team or a freelance Django developer? Then it's time to interview them. But to select the best fit for your company, it's necessary to know the right way of interviewing a Django developer. 
Whether the interview is in-person or through a video session, one of the best practices is to draft a set of theoretical and technical questions. However, make sure to keep your project requirements in mind while drafting these questions. This will help you to find the most suitable Django developer/ team for your project.
Privileges and Risks of Hiring a Django Team
Decided to handle your project with the Django team or an agency? But you should go through the pros and cons of outsourcing a project to a team or agency before the final decision.
Privileges of Django Team/Agency:
It promises collaboration for a longer time span. You can get help from them for future updates, bug fixing, or any other technical assistance.

No need to worry about project management. As the team manager will divide the tasks, plan the future increments, have an eye on the deadlines, etc.

A team will give you an all-in-one package. From managers to developers to testers to designers, every key participant of SDLC will be present inside the team.

Last but not the least, if you are new to software development Django team will help you to define your project scope. So that you can deliver the accurate piece at the right time.

Risks/Disadvantages of Django Team/Agency:
The only risk or disadvantage of hiring a Django team/agency would be the amount of money you will pay.


Well, we can not predict any specific rates of these companies. As they greatly vary on the regions or the teams you are working with. For instance, Asian nations like Pakistan have lesser rates with high-quality work guaranteed. Specially Esketchers is a very high-quality service provider in this aspect.
Privileges and Risks of Hiring a Freelance Django Developer
Carefully analyze the pros and cons of hiring a freelance Django developer before handling your project. Here are the advantages and disadvantages of selecting a freelancer.
Privileges of Freelance Django developers:
Freelance Django developers have no time compatibility issues, They can easily mold their schedules for you.


You can use any of the freelancing platforms to find the best fit for your project. Just go through the reviews and ratings of the profiles and you are good to go.

Also, you can have a task or project-specific developer on board. The one who has done similar projects to the one you have.
Risks of Hiring Freelance Django Developers:
You have to monitor the performance of the hired freelancer through certain mediums. As there are chances of negligence from their side.

Project completion can not be done single-handedly by a Django developer. Therefore you have to hire other members as well for design, testing, etc. Besides all this, you have to manage everything on your own.
Final Checklist for Freelancer Vs Django Team/Agency
Well, every point is explained briefly. However, if you are still finding it difficult to choose between a freelance Django developer or a team. Here is the checklist drafted by Esketchers to help you end up with a better option.
| | | |
| --- | --- | --- |
| Check List | Django Team/Agency | Django Freelancer |
| Need future assistance or modifications | ✅ | ❌ |
| Want constant support | ✅ | ❌ |
| Need a project manager or lead | ✅ | ❌ |
| Strict budget constraints | ❌ | ✅ |
| Full team package | ✅ | ❌ |
| Brief and long duration projects | ✅ | ❌ |
| Small duration projects | ❌ | ✅ |
| Confidentiality of Idea | ✅ | ❌ |
Cost to Hire a Django Developer in the Asian Region
As discussed earlier, there isn't any fixed cost for the development team or a developer for the Django framework. It depends on the two major factors that vary around the world.
Region

Level of Experience and Expertise a developer possesses
Below is the graph that depicts the average and median hourly rate of the Asian & Pacific region Django developers.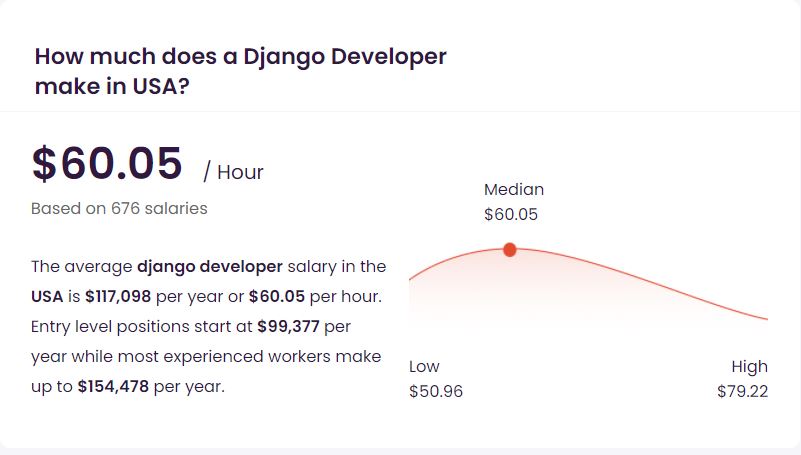 The average rates listed here are based on all the experience levels and may vary from country to country. The Data is collected through Ziprecuriter and talent.com. This tells that in the United States, the hourly rate of a Django developer is $50-$80 which can go as high as $100 in some states. While in Europe the average rate for hiring a Django developer lies between $25-$95 per hour. Whereas in Asia the average hourly rate lies between $20-$40. 
Sourced by talent.com and zip recruiter:
https://www.talent.com/salary?job=django+developer
https://www.ziprecruiter.com/Salaries/Python-Django-Developer-Salary
Final Words
To make your project a success, it's important to choose the right person for the right job. Choose a platform that suits you the best from the list drafted above. 
Carefully analyze the must-have interpersonal and technical skills along with the portfolios and feedback to select the best fit for your company. 
Once decided, make enough calculations about your project duration, requirements, and other features. So that you can wisely choose between a team or a freelance developer. 
Make sure to look at the salary ranges of the regions you are opting for. This can create severe budget issues for you if choosing the wrong region. 
Have a realistic approach towards time frames, and budget limitations, and give yourself some time before making any final decision.