Top 8 Challenges Multi-Vendor Platform Owners Face
Over the past decade, the way people buy things has changed, and forward-thinking businesses adapted to that change by embracing eCommerce to sell their products. This added a great deal of convenience to the way people were able to buy products. But… what's next? What turned out to be even more convenient to consumers was being able to buy everything they needed from one place that they trusted- it's a lot like going to a popular, trusted mall and being able to conveniently visit several stores, rather than visiting each shop individually. It doesn't just stop there. Platforms like Shopify and Woocommerce enable others to boost their businesses by leveraging the visibility you can get from a wide variety of vendors and customers.
While a multi-vendor platform, is where you may be selling one type of product, may run well, but not nearly as successfully as a multi-vendor marketplace like Amazon, eBay, or Etsy, since it caters to a much larger segment of consumers. A multi-vendor marketplace is a platform that enables third-party sellers to reach their consumers, and the possibilities with that sort of reach are endless!
Having a multi-vendor marketplace can be successful while selling products from every niche like eBay, or it can be focused on a particular niche, like Sephora. Currently, owning a multi-vendor marketplace is an excellent option for those who may want to grow and cater to a wider variety of customers, seeing that statistics show the increasing numbers of online buyers- 2 billion in the year 2020, with eCommerce platform sales soaring to $4.2 trillion worldwide– and this number will keep increasing.
Although there are several advantages to building your own multi-vendor marketplace or transforming your single-vendor marketplace into a multi-vendor marketplace, there are some challenges you might face. Once you know how to face them and learn how to tackle them, there's no stopping you!
Challenge #1: Technology & Customer Experience
A whopping 88% of online shoppers say they wouldn't return to a website after having a bad user experience and 70% of online businesses fail because of bad usability. An online marketplace depends heavily on technology. Technology glitches, a lack of mobile optimization, and a lack of a user-friendly layout lead to a bad customer experience. Statistics show that 64% of customers say that a good customer experience is more important than the price.

Solution
A good user interface can increase websites' conversion rates by up to 200%, and 90% of users will leave a site solely due to bad design. The ROI on UX investments is 9,900%, and improving customer experience can raise KPIs by over 80%. If you're running your own multi-vendor marketplace, web development may not be your expertise. At the same time, hiring an in-house web development team has its own repercussions, as it uses a lot of time and resources. However, there are plenty of web development agencies out there who can understand your ideas and business and know exactly what to do, with all that experience and certified expertise. After all, Amazon spent 100x more on UX than it did on advertising during the first year after launching!
However, every company is different, and you need to find the sweet spot that works for your particular business. UI/UX that works for one niche may not work well for another, so you need to look for specific templates created for your niche, and you can then customize it as per your needs.
Challenge #2: Security
eCommerce retailers deal with an average of 206,000 web attacks per month. Global payment fraud has reached $32.39 billion in 2020 and is expected to rise even more in the coming years.
Remember that you are hosting multiple vendors on your website if you're running a multi-vendor marketplace. This means that you're susceptible to frauds- and you'll be held accountable for it.

Solution
As the cyber-threats evolve in complexity and frequency, so does the technology to combat them. This includes Data Loss Protection (DLP) solutions, multiple layers of security, the Payment Card Industry Data Security Standard (PCI DSS), DDoS protection, and security patches. You may also need to set some parameters for quality control. All of this, once again, would depend heavily on the capability of your web development team.
Looking to develop a Multi-Vendor Platform
Share the details of your request and we will provide you with a full-cycle team under one roof.
Challenge #3: Quality Control
The onus of a good customer experience would also fall on you. At best, bad quality could simply mean low-quality pictures and descriptions of products or fake reviews. All these eventually lead to a bad customer experience, and a consistently bad customer experience, and at worst, your company reputation could be damaged with a bad customer experience that got out of control. Damage to the reputation means a loss of trust, which leads to a loss in customers and a downfall.

Solution
Create a quality control checklist, and ensure that the products meet the company standards. You need to outline those standards that your vendors are expected to meet, to ensure that it meets the customers' expectations, while not breaking any laws- yes, that can happen too. Depending on where you are living, there may be certain items that may be illegal- whether it is certain drugs without prescriptions or even toys. Fidget spinners, for example, are banned in Germany.
Challenge #4: Commission Fees & Vendor Payment System
A successful eCommerce business, at the end of the day, is one that thrives through thick and thin and grows. There are several factors impacting a multi-vendor eCommerce store's sustainability.
The multi-vendor business model earns revenue by charging commission fees from the vendors for using your store to sell their products. This means that sellers offering discounts would mean even less revenue for you. A high commission fee would also discourage vendors from signing up with you. At the same time, deducting commission. automatically and paying vendors can also be challenging, especially if you have a different amount of commission for different vendors and products.

Solution
Before setting up a commission fee, you should look at what your competitors are charging. Based on that, you could make a well-informed decision to charge a price that isn't too high for the vendor, and still worth the investment. Setting up different fees for different types of products can also work. Using analytics, you can find out which products are the highest-selling ones.
Despite the need for a fair commission fee, the deciding factor that helps streamline the vendor payment system is getting the right eCommerce platform and the right payment system. There are some software tools out there that you can use to automatically add your commission fees whenever a vendor makes a sale. This takes the load off the admin department, freeing up their time for more productive tasks. Stripe Connect is a payment platform that has proven to be excellent for this purpose.
Challenge #5: Managing Orders and Inventory
The benefit of using a multi-vendor marketplace is the variety you offer- yet, if products are out of stock, it would push your customers to buy those products from other websites. This would lead to a reduction in sales and a potential loss of customers. Similarly, bad post-order service can lead to customer dissatisfaction. When vendors forget to update stock, this can also add to a chaotic customer experience.

Solution
There are basically two ways to add inventory: manual management of inventory by admin, or the vendor managing the inventory. It's much easier to let the vendor manage the inventory, as it's more time-effective, and the vendors would be far better at managing product descriptions. A vigilant, efficient, and organized approach to order management, involving both the admins and the vendors would ensure that the orders and inventory are in order. An admin task would be to send reminders and notifications to vendors to update their stock, or to provide better visibility when they are out of stock. This can direct the vendors to take prompt action and can also increase transparency between all parties (customers can see if a product is out of stock, or learn when the product could be available in the future).
Challenge #6: Shipping & Returns
Imagine if everything went perfectly fine, and the order never even reached the customer- or worse, it was damaged, did not reach on time, or the customer just wants to return it and they cannot, so they leave a terrible review on your website, and more follow. That is a nightmare.
How you ship the order could be a major challenge too. This includes the shipment itself, the shipment method, and the third party that ships the order. For a multi-vendor platform, different vendors will have different shipping and return policies, and mismanagement can cause a disaster! If the vendor offers free shipping to its customers, that doesn't mean that no one is paying for shipping. All these glaring problems desperately need a solution, as ignoring this issue may result in you paying for more than what you signed up for.

Solutions
Transparency
First and foremost, you need to be transparent with your customers. Your system should be able to calculate the exact shipping rates and reasonable flat rates. If a product is being delayed due to a cause you have no control over, you need to inform them. This could include personalized or automated messages, a hassle-free return, or even offering them other options like a local delivery service or an alternative product that also fulfills their needs. You also need to make sure that they're aware of the return policies, or any possible extra fees added to their shipment, especially if you're shipping internationally.
Secondly, you need the same level of transparency between the customers, admin department, vendors, and courier services.  Since multi-vendors have their own shipping and return policies, it would fall on the admin department to inform the customers about different shipping and returns methods according to the specific vendors that the product is being shipped from. An intelligent order management and logistics system for the website can also streamline this process, giving you a clear picture of costs and shipping methods and the return policies, and how to manage them.
International Shipping 
International shipping issues can include unfamiliar carriers and account for duties and taxes. To simplify all of these costs, most major package couriers offer online shipping calculators. These calculators can help you understand how much it will cost your business to make international shipments. These carriers also have their own individual sets of guidelines and regulations for shipping products internationally, and you will need to be aware of those guidelines and how much they will cost you before choosing your carrier.
Shipping Insurance & Return Policy
If the product that your customer paid forgot lost in the way or reached them in damaged condition, someone will have to pay for it, and it won't be the customer. That's why it's important to get shipping insurance for such a situation.
Before you even ship any product, you need to define your return policies and ensure that the vendors you're working with are compliant with those policies. Therefore, when a customer orders a product after reading the return policy, adhering to the policy is a job that needs to be fulfilled on your end. However, this can also be to your advantage, since returning a product costs, and you could define it in your policy that the cost of shipping for returning the product is on the customer, and not you. However, if you have a free-shipping return shipping policy, the should definitely include a prepaid return label in the original package. This would make the process easier for the customers and for the logistics department.
Challenge #7: Branding
Branding for a singular product is straightforward, as opposed to branding as a multi-vendor platform, where you may be offering multiple products while trying to make your website stand out and also trying to not compromise on the vendor's identity.

Solution
Use Their Spotlight
Instead of taking the spotlight from your vendors, you can use their spotlight! If you're offering products from brands that people love at a good price with excellent customer service, this could pave the path to making your platform the go-to place for customers.
Stand Out
How many times have you been disappointed to discover that a product you love is out of stock, too expensive, cannot be delivered to your region, doesn't support your payment method, will be delivered after months, or is simply not available where you live? How often have you been put off by a glitchy website? Have you ever heard people telling their online-delivery disaster stories to people they know? The internet is full of scammers or services that don't live up to their names. If you can beat all your competitors and provide your customers with the high-quality products and a great shopping experience that they're looking for, they won't stop singing praises of your website! 
Hire a Professional Marketing Team
A multi-vendor marketplace has a unique position- not having to manufacture high-quality products, so they can expend a lot of effort and resources into branding. You can hire a professional team for building that distinct design and brand identity, and of course, ensure that the e-store is getting positive exposure along with consistent branding. 
Build Reliability
One of the key factors that determine a consumer's buying decision is the reliability of an online store, especially with the knowledge of fraudulent online sales and their own bad experiences ordering online.
A huge part of the branding and increasing reliability is being able to successfully leverage online reviews. In fact, 92% of consumers hesitate to buy products that have no reviews, and 97% of consumers report that the customer reviews impact their purchasing decisions. Surprisingly, 82% of shoppers specifically seek negative reviews.
It is also important for you to choose the review system. For example, anyone can leave a review on Amazon. However, for Upwork, marketplace reviews don't become instantly visible until both parties give a review. You need to decide what type of review system you're looking for, and whether or not you want specific rules or quality control checklists.
Challenge #8: Sales Reports & Analytics
A multi-vendor marketplace can have complex components that need to work together seamlessly, and the company's growth depends on strategic decision-making. This cannot be done without a deep insight into consumer behavior, vendor activity, and platform efficiency.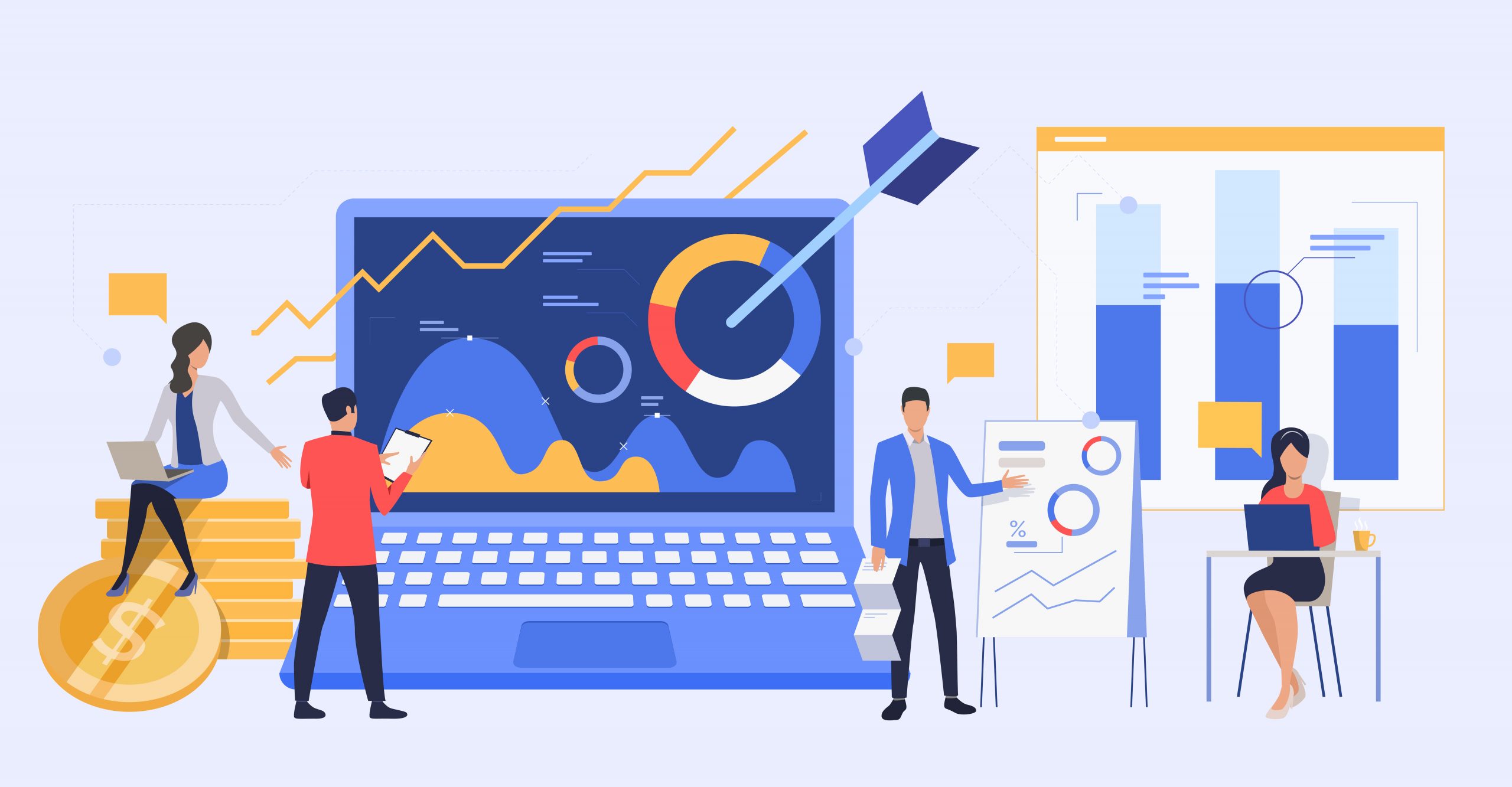 Solution
In order to meet customer expectations and cater to their needs, you need to know their expectations and understand their buying behavior. There's no better way to achieve this than getting sales reports and analytics and sharing them with your vendors. According to a recent study by MicroStrategy, companies worldwide are using data to boost process and cost efficiency by 60%.
Choosing the right analytic software for auditing and reporting can make all the difference between successful business decisions that are a fluke. Aided with the right knowledge, you can make the right strategic business decisions that are focused on reaching your desired business goals.
Conclusion
Even though the digital marketplace has evolved into being more complex than it ever was, there are equally sophisticated solutions out there. Besides a great strategy to build your multi-vendor marketplace, you need to stay on top when it comes to utilizing technology effectively, maintaining a fully functional and user-friendly website, as well as leveraging several software tools to sustain and boost your business growth. While you remain focused on growing your business, it would be a great idea to leverage and hire technical expertise, so that there is nothing holding you back from flourishing!